Rome, the capital of Italy, is a city engulfed in history. The "Eternal City" with glorious monuments is the most visited destination in Europe. Unsurprisingly, there are a whole bunch of things to do in Rome as a visitors.
To say that Rome is a city with a rich history is an understatement. This city practically created modern history and every corner has something of a historical value.
Impressive historical monuments and archaeological sites, a city with over 900 churches, a lovely atmosphere, and excellent cuisine. It is small enough to walk around and big enough to see something new every day. Get a good Italian breakfast and start your journey of discovery of the Eternal City.
Rome Airport To City Center
Rome has two international airports – Fiumicino and Ciampino, with over 40 million passengers coming to the city each year. If you are in Europe, you can often find cheap ticket on budget flights to Rome. Some airlines are Vueling, Ryanair, Wizzair, and Easyjet.

From the airports, you can get quick transfer to the city center at affordable prices from both Fuimicino and Ciampino airports.(7-8 Euros). For the most convenience, you can always get a private airport transfer to your accommodation from either airport.
Rome City Pass
Before getting into the things to do in Rome, it is good to know that the city travel offers city passes for the most popular attractions. These can provide good savings if you are planning on visiting the attractions included.
OMNIA Vatican Card and Roma Pass. The Roma pass and Vatican Card combo. Give you free entry to 2 out of 5 top attractions in Rome plus discounts at a further 30 top sights and entry to all top sites in Vatican. Also includes access to public transport and hop-on-hop-off bus. Fast track entrance to popular attractions like Vatican Museums, Sistine Chapel and St. Peter's Basilica.
Roma pass. Free use of the city's public transport, discount and special prices for events, exhibitions, and tourist services, free access to toilets services of P.Stop network and 2 visits museums included. The price of the card for 48 hours is 33€.
Tip: Here are some tourist and city passes available in popular European cities. These can be great time and cost savers so always check out if there are worthwhile city passes for what you want to do when visiting Europe.
Most Popular Thing To Do In Rome
Rome is a tourist hotspot for good reason. Here are the popular attractions in Rome and other activities that might not be obvious but can be great things to do in Rome as well. Make sure to also check the things to do in Vatican City at the end, which is a key highlight in Rome.
Visit The Colosseum After The Sun Sets
A Rome sightseeing tour wouldn't be complete without a visit to the world famous Colosseum. Being insanely popular attraction, you should book in advance to avoid the long queue. Expect to spend around 3 hours roaming the attractions. You get a self-guided tour with skip a line ticket and a headset.
For a more awesome experience, there are Colosseum night tours. The experience is more intimate since the crowds are smaller. You'll hear wondrous tales of the bloody Roman past, and the night time certainly gives a different vibe.
A popular option is to join a guided tour encompassing the nearby highlights which includes the Colosseum Arena, Roman Forum and Palatine Hill. This gives you a full overview of history in the area.
Tip: Wear comfortable and broken-in shoes. Although the Colosseum is well maintained, there are some slippery or sharp stone surfaces. Avoid thin-sole shoes or flip flops for safety reasons.
Popular Things To Do In Rome
Travel Back In Time At The Roman Forum
This was the center of life in the Roman Empire. The rectangular-shaped square is surrounded by many magnificent antique government and religious buildings, and some of them are very well preserved. If you already have a ticket for the Colosseum, you will have free admittance with it. Roman Forum is very close to it, so you can include both places in one tour.
There is also a free admittance day – the first Monday of every month.
Tip: It's quite large, so expect that you will have to walk a lot. Wear comfortable closed shoes. If the day is hot, have a hat and a bottle of water with you.
Discover The Famous Pantheon
This is one of the most impressive places to visit in Rome because it's the best-preserved antique building in this city. It was built in 126 AD as a temple to the Roman gods but was later converted into a Christian church. The building is circular shaped, and the diameter is the same as the height.
It's located in the center of the city, within walking distance of the Colosseum. The entrance is free, but keep in mind that this is a functioning church, and you shouldn't wear revealing clothes.
While the Pantheon is free to visit, you will certainly benefit from a guided tour which will tell you more about the historical significance of the place and why this is such as amazing architecture feat.
With a functional and beautiful architecture, the Pantheon is one of the key landmarks of Italy you should not miss.
Catch Great Views At Complesso del Vittoriano
You can see the entire Rome from the terrace of this building, which is located on the Piazza Venezia. The Vittoriano monument used to be an exhibition center but now serves as a museum. The building itself is quite massive and grandiose. The white and impressive facade gives it the nickname "The Wedding Cake"
You can see various exhibits in the museum, but the main draw for many is the panoramic view at the top of the structure. You get a different perspective of Rome while still seeing the key landmarks like the Roman Forum and Palatine Hill. Due to the structure of the building, you also get a closer look at the impressive statues and mosaics decorating the Complesso del Vittoriano
Grab a ticket to take the panoramic glass elevator and explore this imposing landmark in Rome.
Outdoor Things To Do In Rome
Marvel At Castel Sant'Angelo
The Mausoleum of Hadrian, commonly known as Castel Sant'Angelo, is an impressive cylindrical building located in Parco Adriano. Emperor Hadrian built it as a burial place for himself and his family. It was later used as a fortress and castle, and eventually, it was turned into a museum. It was also the tallest building in Rome for a while.
You can get a skip-the-line ticket online to save time. Note that entry is free for persons under 18 and there is a free admittance day – the first Sunday of every month.
Tip: The Borgo, a charming neighborhood where the Vatican servants lived, is located between the Vatican and the Castel Sant'Angelo.
Check Out The Thermal Baths of Caracalla
The Baths of Caracalla are the most extensive ruins of an ancient bath complex in Rome. This is your must-to-add item on the list. Named by emperor Caracalla, son of Septimus Severus, this odd complex of brick walls and floor mosaics remains something worth seeing.
It's located in the center of Rome, and within walking distance from the Colosseum and the Circus Maximus, you can get there on foot.
> Guided Tour of Caracalla Baths & Circus Maximus
Vespa Around The City
One convenient way to explore and travel around the city is via a Vespa Tour. You can also choose to rent and drive your scooter if you have a valid driving license! There are great driving tours around the city that stops at local markets, food shops, and cafes.
You can also get a driving tour in a vintage Fiat 500 and have a genuinely unique and unforgettable experience. It takes you to the best Rome sightseeing places and gives you a great perspective of the city.
Tip: Driving in Rome can be a little bit challenging, especially for a beginner. If you are not a confident driver, and this is your first time in Italy, you should let someone else drive.
Indoor Things To Do In Rome
Get Freaky At Capuchin Crypt – Crypt of Skulls
This is one more of the unusual things to do in Rome. The crypt is set in the center of the city, and it's one of the most fascinating and frightening things at the same time. It is the museum and crypt of the Capuchin Friars with mummified remains and bones of around 4000 people! It isn't everyone's cup of tea, and some people might find it somewhat disturbing. Buy tickets there or get a skip-the-line ticket beforehand.
Tip: There is a dress code. Since the crypt is a part of a functioning church, you shouldn't wear revealing clothes. Generally, you should avoid sleeveless clothes and shorts.
Explore the Catacombs of St. Callixtus
Admittedly, not everyone is into things like this. However, if you are the type who likes to get spooked or enjoys history, then a guided tour to the Catacombs of St. Callixtus is a great activity for you. This is one of the largest and most important of Rome's catacombs. You get to visit the crypt of Popes dating all the way back to the 3rd century, along with ancient frescoes that are some of the oldest in Rome. This is the resting place of many respectable figures and a journey through the maze-likecatacombs is truly a unique experience.
Admire Masterpieces At Galleria Borghese
This museum is located in the beautiful setting of Villa Borghese. It holds sculptures, reliefs, ancient mosaics, and paintings from the 15th to the 18th century. Some of the works of art exhibited were created by Messina, Giovanni Bellini, Raffaello, Tiziano, Correggio, Caravaggio, and Bernini.
You can get your ticket online to avoid the queues. Note that the museum is closed on Mondays. Persons under 18 can get in for free (but needs to pay the reservation fee)
Tip: Free admittance day is the first Monday of the month, October to March. But you have to book your free ticket.
Explore Genius At The Leonardo da Vinci Exhibition
The Leonardo da Vinci exhibition is one of the most popular things to do in Rome right now. The exhibition is held at the Palazzo della Cancelleria and features over 60 pieces by the Italian genius himself. The gallery features 4 different sections with interactive exhibits that you can explore and play around with.
You will see some of his famous paintings like the Mona Lisa as well as some of his inventions in cool holographic projections. The building itself also features an underground ancient tomb of the architect dating all the way back to the 43BC.
Grab a skip-the-line ticket and get a glimpse into the thoughts of Leonardo da Vinci.
Discover Ancient Royalty At The Domus Aurea
Have you ever wanted to explore an ancient palace? The Domus Aurea is your chance! Also known as the Golden House or Golden Palace, this was Emperor Nero's lavish palace after the great fire of Rome in 64AD. It was later abandoned and covered in earth until its rediscovery in the 15th century. You can explore the ruins of the once-great palace and see some amazing frescoes. These ancient frescoes caught the attention of many famous Renaissance artists including Michelangelo and Raphael.
Take a guided walking tour for a deep dive into this historical ruin and art museum.
Stimulate Your Senses With 3D Ride And Simulation
A very innovative thing on this list of things to do in Rome is a 3-D movie ride at Time Elevator Rome. It is a multisensory experience that combines video, moving platforms, and sound. It can take you back to the numerous ancient times of Romulus and Remus, Julius Caesar, Renaissance, up to the modern times, 20th century and the present.
It's located in the city center, and you could take a break from walking around the city, and still see something interesting and learn a lot. It is a great way to start your journey and have great fun in Rome.
Get a ticket to uncover over 2700 years of history in the Eternal City.
Cheap And Free Things To Do In Rome
People Watch At Piazza Navona
This famous rectangular square is actually a former stadium, and now it is a gathering place for tourists and locals. Unique fountains with beautiful sculptures and an impressive church are lovely to look at while enjoying your drink in one of the many restaurants. It's located in the vicinity of Pantheon.
Tip: Restaurants and cafes are on the pricey side. Like any tourist spots, sometimes pickpockets appear when it's overcrowded.
Climb The Spanish Steps
Very popular location and one of the most visited sights in Rome. It's located in the old city center, within walking distance of many other Rome sightseeing spots. The steps are named after the Spanish Embassy located nearby, and there are 138 steps to climb. This is a traditional meeting and relaxing place for Romans, at least it was before the tourists took it over.
Best time to visit. This attraction is accessible all-day, but it is very crowded. If you want to avoid the crowd, early morning hours from 7 am to 9 am are best for a walk through this part of town or between 6 pm and 8 pm when most tourists go back to the hotel and plan the evening.
Live web camera: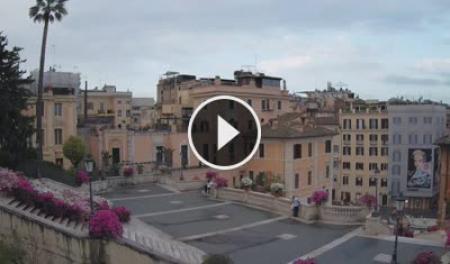 If you are not in good shape, you can take the elevator, which is right next to the metro station.
Toss A Coin Into Trevi Fountain
It's one of the most famous fountains in the world, and one of the best places to visit in Rome. This landmark attracts millions of tourists each year, all of them racing to throw a coin into it. The legend says that if you do that, you will return to Rome again. You do not need a ticket to visit the fountain; it is an open site with multiple entrances.
Best time to visit: You can't avoid the crowds, but it's least crowded just after sunrise.
Getting up early might just enable you to get that perfect photo without tourists bombing it, but there is a possibility that the fountain will be closed. Regular cleaning and coins removal is done three times a week, between 6 am and 10 am, and the official data on exact days changes often.
If you want to make sure that it is not too crowded, you can check out the live web camera: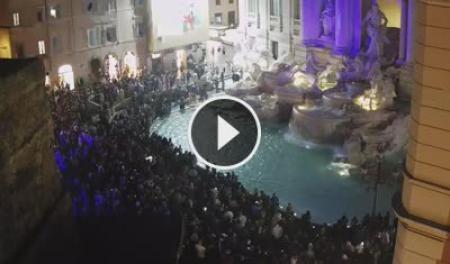 This landmark is a popular spot for thieves to pickpocket. Make sure that your belongings are safe.
Local Things To Do In Rome
Apart from the popular things to do in Rome, there are also other activities that might not come to mind right away. However, these are interesting things that you do in the Eternal City as well.
Get Lost In The Streets Outside Central Rome
One of the downside of Rome for me is the overly touristic nature of it. Everywhere you turn, you come face to face with a tourist.

To get away from the crowd, one awesome thing to do while in Rome is to visit the famous Trastevere neighborhood's narrow streets. This area is slightly outside the super touristic zone and is one of the most colorful areas. The name translates to "beyond the Tiber" because it refers to its location on the west bank of the Tevere (Tiber).
You can enjoy some of the many artisan shops, museums, churches, shops, and fish markets during the day. And in the nighttime, you can discover why this discovering part of the city is one of the most popular things to do in Rome at night.
The most famous places are Piazza Trilussa, and bars around The Piazza Santa Maria. The young crowd will enjoy this part of the city; here, the music stops early in the morning. No wonder the locals call it "The heart of Rome."
Trigger Your Tastebuds On Food Tour
Italian cuisine is one of the most famous internationally. However, you never really know the actual cuisine until you visit the place of origin.
Italy is a country of many food specialties, and Rome is genuinely abundant with a lot of tasty and delicious foods. For a foodie, this is a good place to join a nice food tour and get yourself familiar with numerous kinds of Italian food and gastronomic taste bud fantasies.
Tip: You can certainly also hunt around yourself, but be careful of tourist-trap shops. Remember, eat where the locals eat.
Get Busy With Pasta And Cooking Class
If you want some great and practical experience when visiting Rome, and if you like Italian cuisine, you might want to try yourself out in some pasta classes. Learn to cook great pasta like Romans with a private pasta-making course, usually followed by a meal and a wine—one of the great ways to learn about Italian culinary traditions.
You can learn many different kinds of pasta, like tagliatelle, fettuccine, maltagliati, pappardelle, tagliolini, etc. After you master each pasta dish skill, you can sit down and have a four-course meal with treats like bruschetta, seasonal veggies, and tiramisu with some fine quality wine.
Visit The Vatican And Its Sites And Museums
A trip to Rome is not complete without entering another country, and that is Vatican City.
It doesn't really matter if you are religious or not, the Vatican is one of the most popular places to visit in Rome. It's a state within a state, but you won't need your passport. You can get there by bus or subway. There are several places you should see:
Vatican Museum. This is a complex of museums, and one ticket gets you admittance to all of them. It will cost you around 20 Euros. Inside the museum, you will also find the
Sistine Chapel, with ceiling painted by Michelangelo. It's located at the end of the Vatican museum and presents a culmination of the tour.
St. Peter Square, one of the most iconic buildings in the world.
St. Peter Basilica. Don't forget to climb the stairs and witness the fantastic view of St. Peters Square. If you don't want to climb 551 steps, there is an elevator. The entrance to the Basilica is free, but if you want to visit the dome, it will cost you 8 to 10 Euros.

The Vatican Museum and Sistine Chapel are extremely popular and there is always a long queue. You should consider getting your ticket online in advance for quicker entry. As a religious and prominent destination, there are plenty of guided tours to cater to the curious minds.
Tip: Dress code. You shouldn't wear revealing clothes like short skirts, shorts, and dresses. If wearing summer clothes with naked shoulders, put some scarf over them. Sandals are okay, but flip-flops are seem as informal and disrespectful.
Best time to visit: Early in the morning or after 4 pm. For instance, queues outside the Vatican Museum start forming as soon as 7:30 am, even though the museum opens its doors at 9:00 am.
If you want to avoid crowds, avoid weekends. The best days to visit are from Tuesday to Friday. Why not Monday? Well, all the other Museums in Rome are closed on Mondays, so people go to the Vatican museum, which is the only one open.
Free Vatican Museum entrance day: The Vatican Museum doesn't usually work on Sundays, except for every last Sunday of the month, when entrance is free for all visitors. Of course, expect large crowds.
Where To Stay In Rome
Receiving millions of tourists each year, Rome offers a wide range of accommodations catering to different budget ranges. Here are some well rated accommodations in Rome.
Hostels In Rome
YellowSquare Rome: Redefining the hostel experience, YellowSquare is a great option for digital nomads looking for a bit of coworking and coliving experience. It continues to deliver the fun, interactive vibes of hostels while having amenities that are also good for getting work done.
> Check Accommodation Prices
The RomeHello Hostel: Classic hostel with energetic and young vibes. Dorm room and beds are need with individual light, sockets and shelf. Great for mingling and hanging out wit other backpackers.
>Check Accommodation Prices
Mid Range Accommodations In Rome
Hotel Hiberia: Clean and neat 3 star hotel in a superb location near major sights. Great for anyone who wants the convenience of a central location without breaking the bank. Comfortable and simple with good service.
>Check Accommodation Prices
Best Western Plus Hotel Universo: Set in a 19th century building, this 4 star hotel offers comparatively more amenities which include a gym, turkish bath and sauna on site. There is also the option of a breakfast buffet. Some rooms have a great balcony view as it is also near some of the city attractions.
>Check Accommodation Prices
Best Western Premier Hotel Royal Santina: Modern stylish hotel that offers you the comfortable, service oriented hotel experience. The property has a huge breakfast selection and also a gym on site. It is a quick walk from the Roma Termini Station, making it easy to get around.
>Check Accommodation Prices
Luxury Accommodations In Rome
NH Collection Roma Fori Imperiali: The 5 star hotel is located right in the center of Rome with a great overview of the Roman Forum. The hotel features contemporary design and has a rooftop bar that takes advantage of its superb location.
>Check Accommodation Prices
Hotel Eden – Dorchester Collection: Featuring a classic luxurious style, Hotel Eden features spacious areas and neat rooms. They even have a Michellin star restaurant right on site and terrace with amazing views of the city.
>Check Accommodation Prices
Singer Palace Hotel: Situated in the vicinity of the famous Pantheon and Via del Corse shopping street, this hotel boasts elegant interior decorations with a rooftop restaurant. Very convenient location that makes it easy to hit the major city highlights.
>Check Accommodation Prices
Getting Around Rome
Rome is a large and busy city, but its center is relatively small and most of the tourist attractions are located within walking distance from each other.
The best way to explore Rome is on foot as you will be able to see much more than if you were taking public transportation or driving around. Each neighborhood in Rome has its own unique atmosphere.
However, if you want a more relaxed option of getting around, there are always hop-on-hop-off buses that bring you close to the major attractions. The bus tickets are pretty flexible with 1-3 day options.
Alternatively, there are also many interesting ways available to explore the city such as by e -bikes or golf carts that will allow you to cover more ground in shorter time.
Discovering The Best Things To Do In Rome
Great Mediterranean weather, historical buildings, beautiful landscapes, fine wine, and great pasta… Just some of the many wonders and pleasures of what Rome can offer. Now it's up to you to decide what you should try out first and enjoy and have a great time in this marvelous capital of Italy.
---
PIN THESE THINGS TO DO IN ROME FOR LATER